hello followers! wow i've been gone a very long time. i'm so sorry i haven't been entertaining you guys. i've been "busy." i went on a little road trip with the fam around california, utah, nevada, and arizona for a week. it was amazing! check out the photos on my facebook :) i still haven't figured out the whole posting photos on here ;) hahahha. i suck i'm sorry. i'm so not technologically savvy. eh. anyway, what else is up with me? oh my cousin, aunt, and cousin's friend from germany were here for 3 weeks. they also went on the road trip which made it even more fun. great memories for sure. they went back last week to their home place so now it's back to the same thing. oh the heat right now is unbearable! my goodness. it's been 3 days of extreme heat. in the high 90 degrees farenheit! wowser! california weather go figure! and it's only sping. sheesh. it's supposed to be rainy season during spring here but whatevs at least i got my tan :) it's a work in progress. the upper body is just fine with the crispy look but the legs are not up to par! goodness. i look like a ghost from the bottom half! hahahahha.

another thing...i think is interesting is that i have become a stud master :) hahaha jk. i'm only a beginner when it comes to studding. i found GeMagic at walmart this weekend! for those of you who don't know it's like a bedazzler. you cam put studs or rhinestones on anything like clothes, bags, shoes, candles, etc. it's a neat little apparatus. i thought it would be a fun thing to have when i feel like being crafty. so lately i've just been studding my purses.




those are the two that i've done so far. more to come. i plan on doing shoes/sandals next. i promise to share them to you all. i don't really care for the other gems. i just want the studs. i know that they're not perfect but i'll get the hang of it and eventually perfect the art of studding/gemming:)

now on to the makeup aspect. i bought russian red by mac. i have to say that it is by far my favorite red lipstick. i know that it is a true red but i think it looks awesome. and i think that everyone can pull of the red with this lip color. try it for yourself.



....sorry it's not a photo of me wearing the lipstick. i promise to next time photograph myself wearing the color. i'm surprised that i haven't pictured myself because i pretty much wear it everyday.

but right now, i'm looking into mac's cyber lipstick. it's a really dark purple almost black but with a hint of dark wine. it has a gothic feel to it. i guess when i feel down and emo i can rock that shade! it's really a unique color. i've tried it on at the mac store BUT it was kind of a messy process cause i didn't have any lipliner on to match the color so it was relaly messy looking. it definitely an awesome color. i have to really try it on my lips to fully understand and decision if i really want to buy it. unfortunately, no other cosmetic brands have a similar shade. very disappointing! well, i guess that's next on my list.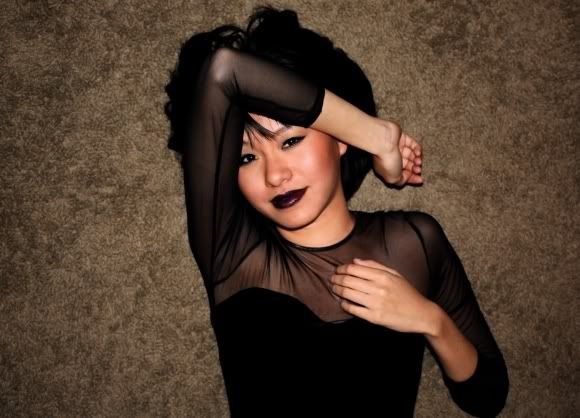 ...thatschic.net swears by this color and her friend and her were playing with it and i think it looked amazing on them! definitely unique. i effing love it!

anyway, sorry if i put to sleep my male readers but this is good information for women :) ahahah. and i'm sure men would also love to see women look their best!!!

tune in next time!